Amapola continues its collaboration with the Centrale del Latte di Alessandria e Asti, a joint stock company based in Alessandria where its production factory is located, which sells almost 15 million litres of fresh milk and cream every year and distributes around 400 different products.
Having helped the Centrale undertake a brand and packaging restyling to tell people what "lies behind" a bottle of milk, and develop a new portal, iltuolatte.it, to give continuity to its new identity, we worked with them on a new project, a video about the company and its daily activities.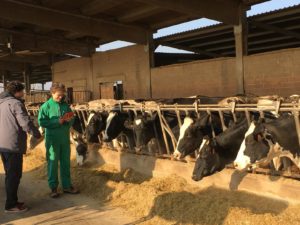 The company's core values – passion, quality, attention to animal welfare and food safety – are the subject of a 30-second video recounting the milk "journey", from the stables where the cows are milked in the early hours of the morning to the preliminary tests in the farm and the subsequent tests in the factory, then bottling and delivery: the shortest of supply chains to enable the Centrale to milk, check and distribute in just a few hours in northwest Italy.
This gave us the idea for the closing payoff: "the long story of a short supply chain".
The video was filmed in the countryside around Alessandria, where the Centrale's 12 partner breeders are based, and in one of the farms that supplies the milk. It includes shots of Alessandria and the new Meier bridge, the symbol of the town.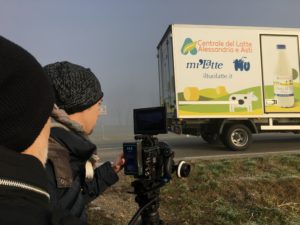 The video was coordinated and directed by Stefano Belviglieri.
Some of the aerial shots were taken using a drone.
A special thanks goes to Andrea Rex Revelli of MakeNoize! Studio for the collaboration in this project.
The voiceover was recorded by Riccardo Lombardo, an Italian dubbing actor with extensive experience in cinema and advertising.
The video will be projected in cinemas in Piedmont, Liguria, Lombardy and Tuscany after Christmas.