Responsibility on the move. The Autosped G Group chooses Amapola for its first Sustainability Report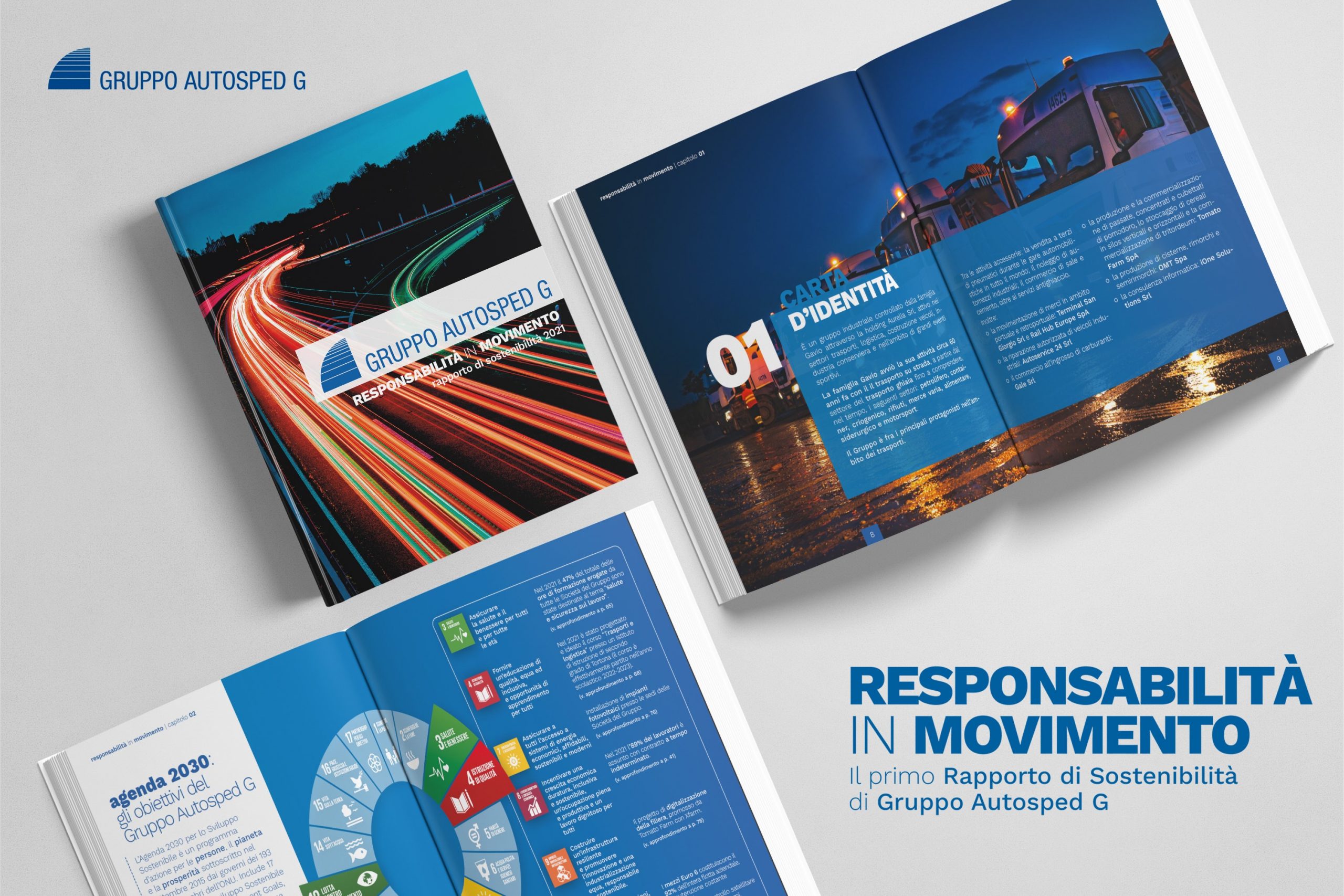 The project, implemented in a technical partnership with 3i group, recounts the Piedmontese company's ESG journey.
Moving ahead, strengthening the ESG pillars and consolidating its progress in social and environmental responsibility as it opens up to all its stakeholders. The Autosped G Group, a long-established firm in the Alessandria area, is publishing its first Sustainability Report and has chosen Amapola to edit and publicise the document, in a technical partnership with 3i group.
Autosped G is an industrial group owned by the Gavio family through the Aurelia S.r.l. holding, active in transport, logistics, vehicle manufacture, canning and major sports events. Its 2021 Sustainability Report is a voluntary document that confirms its decision to assume a challenging responsibility with respect to all strategic stakeholders, in advance of future legal requirements.
A complex organisation
Taking a transparent, gradual and concrete approach, the first Sustainability Report considers thirteen Group companies, which reported overall turnover of 661 million euro in 2021, with 2,000 employees, 31 operating sites and 3,700 vehicles. A complex organisation covering a range of different sectors, each with its particular sustainability characteristics. Starting from the central question of governance, the report examines each of the ESG pillars, focusing on policies, certification, internal projects for Group employees and projects for the community. These include the creation of a course in Transport and Logistics for students in local senior high schools and economic support for employees at a time of soaring prices. Special attention has also been given to analysis of the environmental impact of a Group at the cutting edge in terms of technology, management systems and innovation processes.
«In a global context where sustainability is an increasingly strategic business driver, the Autosped G Group has decided to stand up and be counted,» says Group CEO Luca Giorgi. «This first Sustainability Report reflects our desire to be a whole-hearted participant on a journey that may be arduous but is certainly stimulating. From here, we are setting new objectives for the next few years, and will provide a transparent report each year on our progress in sustainability.»
The project for the Autosped G Group's first Sustainability Report
We assisted the Autosped G Group in the strategic planning of the reporting process and in setting up the organisational and cultural levers to establish a medium/long-term perspective. The first Sustainability Report is an interactive multimedia document highlighting the Group's ESG vision, which emphasises sharing with internal and external stakeholders. Its account of 2021 comes to life in a clear streamlined narration, enhanced with icons created ad hoc, charts to facilitate reading, images from the Group archive and theme-based focus points to help the reader learn more about the organisation's activities.
The Report also includes references to other ongoing initiatives to be examined in detail in the next edition of the Report, which we are already working on with Autosped G, in collaboration with 3i group. The projects include the splendid photo collection curated by Silvia Rauti Carbone, a driver with Autosped G Group and G&A employee, who wanted to illustrate the life of a truck driver through shots of colleagues photographed during their work breaks. A concrete example of inclusion and passion.
The Autosped G Group 2021 Sustainability Report is available here: https://www.gruppoautospedg.com/rapporto-di-sostenibilita-2021/