HULT / EF and Amapola launch the Sustainability Bootcamp project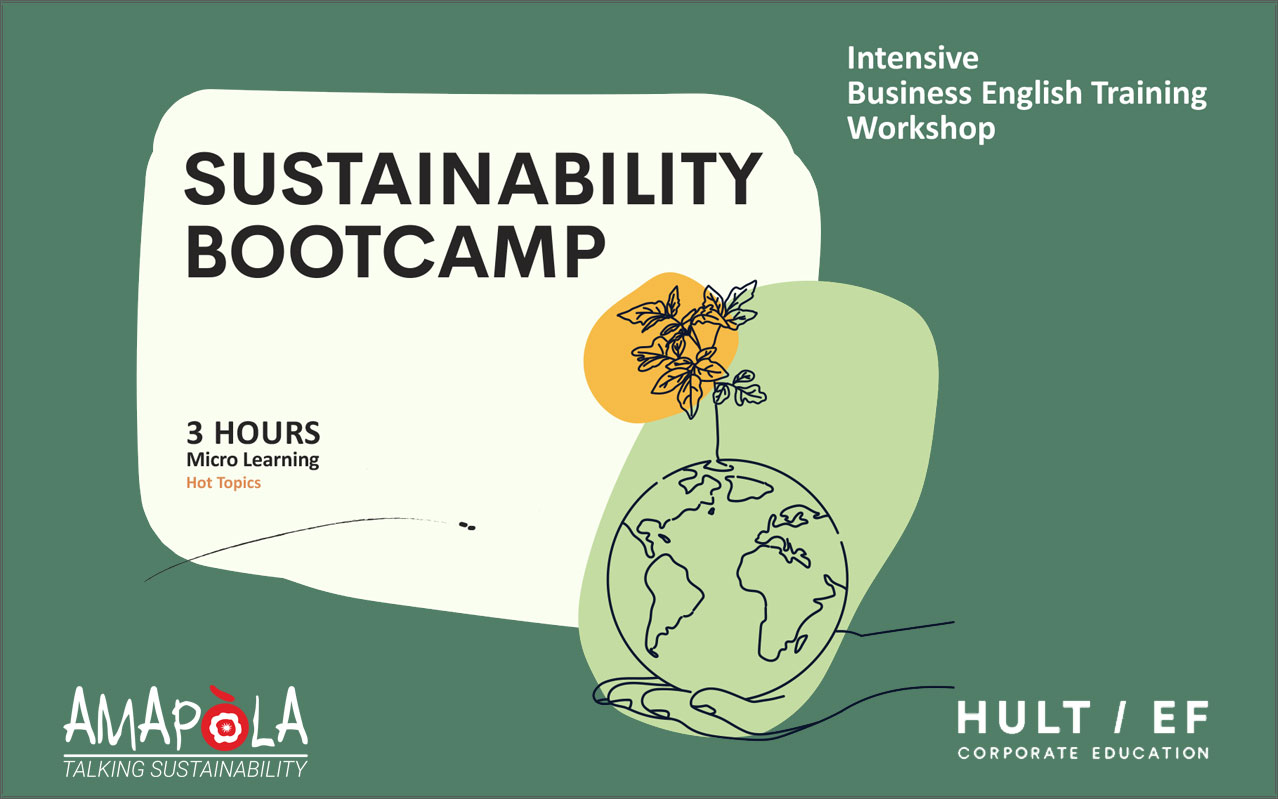 Language and sustainability skills to develop awareness and a corporate culture.​
Sustainability is here to stay. To assist companies through this radical change and help them acquire new skills and knowledge, the Sustainability Bootcamps project is at the starting blocks, developed by HULT / EF, the world leader in language and managerial training, and Amapola. Together, we have combined our know-how and experiences to create an integrated complementary proposal: a series of new workshops, in English, on sustainability issues, for companies and professionals who want to fine-tune their skills in this field and at the same time improve their English language proficiency.
The structure of the Sustainability Bootcamps
The combined training courses from HULT / EF and Amapola are intensive (3 hours for each module), interactive and digital. Each session, introduced by a brief bilingual presentation, starts with a series of short videos on key sustainability issues, which provide the starting point for a classroom discussion guided by the tutor. The workshops include a team work session, followed by a live simulation where the participants will describe, in English, the work done in the group. Three courses are offered: Introduction to sustainability, Let's talk environment and The social side of sustainability. Each course consists of three 3-hour Bootcamps, which can also be followed individually.
Understanding change
Almost one in two Europeans believes that climate change is the main global challenge for the future of the EU and about nine out of ten Europeans think that the ecological transition must not leave anyone behind. This very high level of interest is inevitably reflected in the business world, where a growing propensity to invest in change is apparent: in 2021 96% of Italian companies declared that they had invested almost 300 thousand euro a year in Corporate Social Responsibility activities. At the same time, proficiency in English – the language of business as well as the most widely spoken language in the world – is a priority in an interconnected world. It is also the lingua franca when talking about sustainability.
«By boosting language skills and sustainability skills, the Sustainability Bootcamps establish the foundations for a common corporate vocabulary,» says Charles Gout, HULT / EF Country Manager Language. «Starting from a shared store of notions and terminology, an internal dialogue can be created that everyone can access and take part in.»
«Amapola developed the sustainability content and turned them into short videos, focusing on discussion in specialised training sessions,» says Amapola founder Luca Valpreda. «Our partnership with the world's leading provider of language education services enables us to greatly expand the audience of companies sensitive to ESG issues and to leverage common values like dialogue, sharing and active participation.»