L'anello mancante is in bookstores. With help from three Amapolers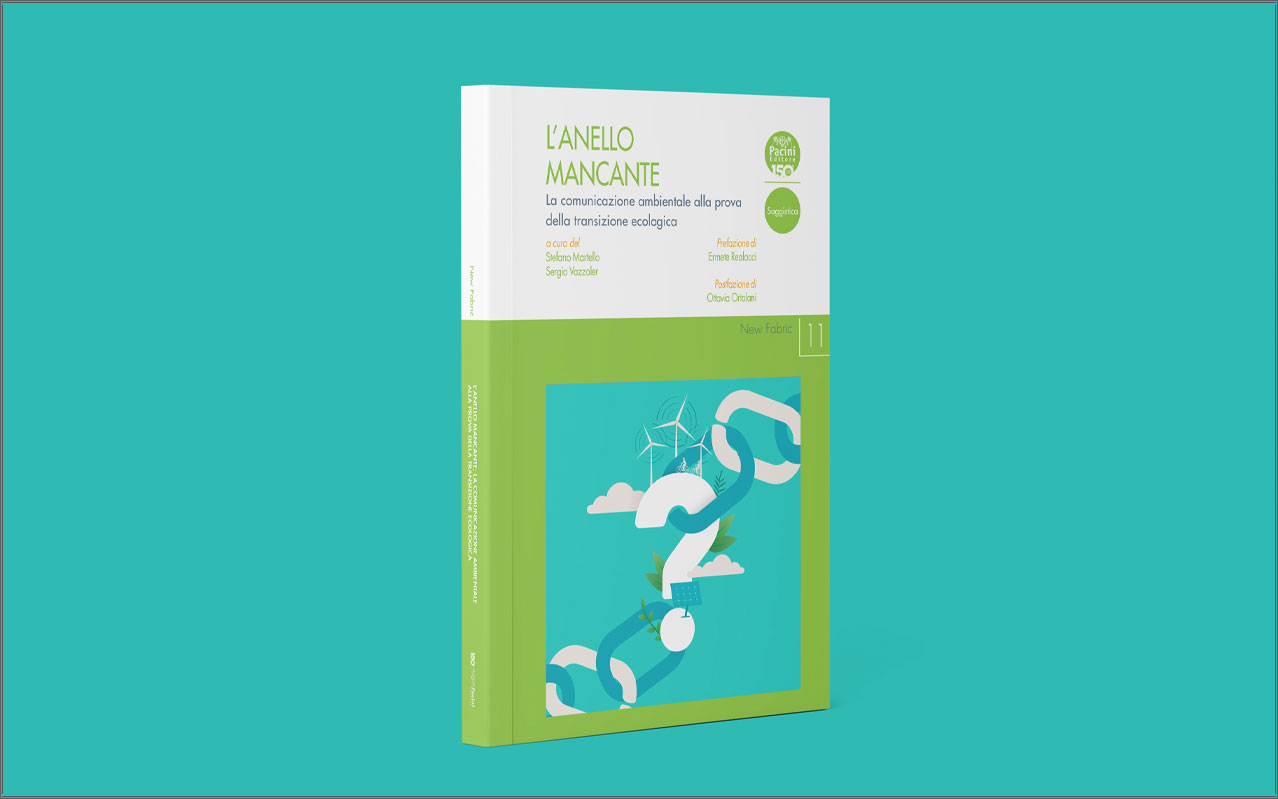 ​A sequel to the Libro bianco sulla comunicazione ambientale, the new book explores useful tools and methodologies for communicating the ecological transition.
How do you communicate the ecological transition and convey its urgency to all social players, while driving the far-reaching changes required in both the professional and individual spheres? Is environmental communication the missing link – the anello mancante – to accomplish this today? This is the starting point of the new book L'anello mancante. La comunicazione ambientale alla prova della transizione ecologica (2022, Pacini Editore), which brings together the voices and experiences of 15 authors. A crucial sequel to the Libro bianco sulla comunicazione ambientale published in 2020 in response to today's developments and increasingly complex scenarios.
Why do we need a new book on environmental communication?
«At a moment in history marked by a perfect storm driven by the climate crisis and the energy crisis and recommended behaviour undermined by the struggle to reach the end of the month, a return to writing about environmental communication may seem anachronistic and even a little naïve, » says Sergio Vazzoler, the new book's co-editor, with Stefano Martello. «I still remember two years ago, when the pandemic was at its height, how many people said sustainability would go into a rapid decline, overtaken by "far more pressing priorities". The exact opposite has happened: never have we seen such a shift in attention and capital to "non-financial" values as we have in the last two years.»
«Today, with L'anello mancante, we are re-opening the toolbox and looking for useful codes, languages and methodologies to respond to the old and new challenges facing business, institutions and individuals,» Vazzoler adds. «Knowing that although the global scenarios can cause more than one setback in the ecological transition, they cannot stop the need, the urgent need, to think, act and communicate in an entirely different way from the linear, bulimic and iniquitous model that created the environmental crisis.»
A variety of tools for a single cause
The book opens with a fascinating contribution from Ermete Realacci, President of Fondazione Symbola and closes with an afterword by Ottavia Ortolani for ASviS (Italian Alliance for Sustainable Development), to give the reader a multi-layered, multidisciplinary and interconnected picture. It explores many contemporary challenges and new horizons, from intergenerational dialogue to consumer engagement, from communication plans to modern narrative languages. Two annexes, the Rapporto Eco Media and the Decalogo della comunicazione ambientale (produced by Amapola!), are an added bonus.
The project involved a number of Amapolers. Not just the editing work of Sergio Vazzoler, who also wrote the chapter on sustainability reporting, but contributions from Alberto Marzetta, who used his expert facilitator skills for an original take on stakeholder management, and Emilio Conti, who looked at the dynamics of public debate from an international perspective.
Working on sustainability also means supporting and promoting the sustainability culture, reaching new and old audiences to ensure that change is truly possible, real and transformative!