Responsibility looks to the future, the new sustainability report from Alfasigma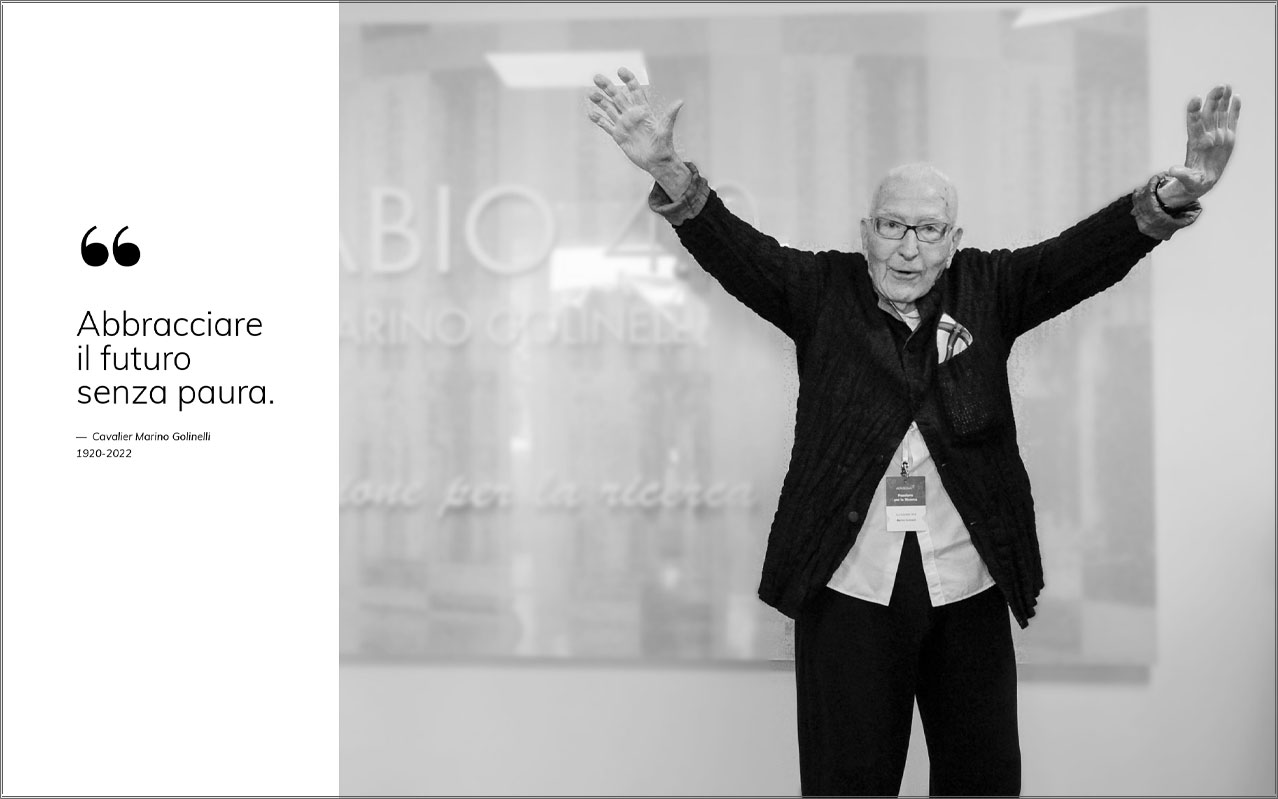 For the third consecutive year, Amapola provided editing services for the company report and supported its strategic sustainability processes. 
The third sustainability report from Alfasigma, a leading pharmaceuticals company, pays tribute to the spirit and teachings of the company founder, philanthropist Marino Golinelli, who died recently. His words and his determination always to look to the future with confidence were the inspiration for the report's title: responsibility looks to the future. This year once again Amapola was at Alfasigma's side, helping the Steering Committee draft the sustainability report, coordinate internal listening activities and stakeholder engagement processes, and collect ESG data.
Responsibility and future. These are the two dimensions in which the Bologna-based company is charting its growth, innovation and sustainability path: responsibility reflected in its passion for its work and attention to people and stakeholders, and in its the commitment to always "put the patient first"; future in the focus on scientific research and innovation processes.
Social responsibility, attention to people and environmental sustainability
Alfasigma's new voluntary report illustrates a busy year of tangible results, growth projects, innovation and ever closer ties with stakeholders. In 2021 the company confirmed its commitment to social responsibility issues, translated into investments for the community totalling more than 2 million euro, and donations to associations and support for solidarity initiatives for 279,000 euro. Attention to environmental questions was equally significant, with the recovery or recycling of 100% of company waste, initiatives like the Alfasigma Millennial Advisory Board for the new generations in the company, and a wide range of research and open innovation projects. These include the opening of the new multipurpose R&D centre named after the company founder, Marino Golinelli.
The Amapola project for the Alfasigma sustainability report
We looked after every element of the Alfasigma report: data collection, collaboration with the in-house team, copywriting, narrative editing, graphics design. The new report, which comes under the heading of voluntary reports, was written with reference to the latest international standards. Special attention was also paid to stakeholders, through ad hoc interviews.
To give full weight to the company history and identity, the 2021 report was enhanced with a fascinating iconographic project covering the contemporary artworks on permanent display in Alfasigma plants and offices. A choice that reflects the importance the company attaches to beauty, art and culture.
To bring sustainability "to life", Amapola produced a video in collaboration with the Corporate Communication office, which, in just over a minute and a half, illustrates the "sustainable value" of Alfasigma in terms of the 3 ESG pillars. To attract an even broader audience, Amapola also created a pocket version to make the report content more accessible. The abridged version will be translated into English for use by the Group's foreign subsidiaries.
Go to the project factsheet.